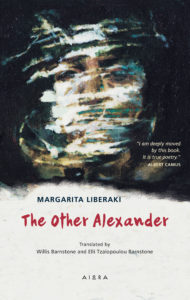 Review on Instagram: My God, what have I just read?!
Repost: @loubeebooks The Other Alexander, Margarita Liberaki
Translated from the Greek by Willis Barnstone and Elli Tzalopoulou Barnstone
"I'll take care of the fire," said Grigori, "I like fireplaces and everything romantic: a sister fainting by the staircase because her husband was unfaithful or because her lover did not show up; a mother who has grown old without suspecting that her husband has baptized half the region – I say baptize to avoid using another term, and particularly since he was godfather to them as well-, a mother who has never seen the other house with the double fences."
The name Margarita Liberaki is probably familiar to you thanks to her book, Three Summers – Penguin and NYRB both have pretty editions which I've seen a lot of on here. This isn't that one, this is her third book, The Other Alexander, published by Greek indie @aiorabooks.
There's civil war and a family, a rather strange one. There's an awful father who has another (not so secret) family, and, comical fella that he is, he gave both sets of kids the same names. So…. we have two mirror families – some of the half siblings hate each other, some don't, some are…sleeping together.
It is all rather absurd at times but I don't say that as a negative. It's also often very funny, deeply poignant and above all, startlingly clever. I was thinking of a writer I could possibly compare her writing in this book to and in Sarah's @fearnomoretheheatothesun post she mentions similarities with Ann Quin, which is bang on the money. It was a similar feeling having finished the book thinking, My God, what have I just read?! I thought it was exceptionally good. Thank you to Sarah and to @aiorabooks for my copy. If you are interested in Greek literature both old and new, I would urge you to give them a follow and check out some of their other books – I'll certainly be reading more of their catalogue.
*The great cover art is by Greek artist Egkrateia Roumpou