All Aboard the Paper Boat
Miscellanea
SOFIA ZARABOUKA
Rendered into English by Maureen McManus

Come sail through centuries and across continents…
This illustrated history of paper invites children to jump aboard a paper boat that travels from China to Samarkand, Mexico to Paris, and many stops in between to see how paper was created.
Famous Greek children's author Sofia Zarampouka chronicles the unfolding story of papermaking, taking us to meet the people who discovered, invented and designed each new step along the way. With a mix of history and geography, she entertains and informs young readers about the thousand-year journey of paper, from ancient pulp and plant fibre to the book you hold in your hands today.
Hop aboard and discover how this ancient invention transformed the world and continues to make our lives more creative and beautiful.
Sofia Zarampouka is a beloved author and illustrator of over sixty children's books. Her work has won many national and international awards, and has been exhibited in museums and galleries around the world.
€11.00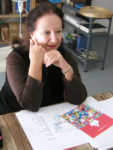 | | |
| --- | --- |
| Weight | 0.348 kg |
| Dimensions | 17 × 21 cm |
| Author | Sofia Zarabouka |
| ISBN | 978-618-5048-88-4 |
| Pages | 56 |